CONDOLEANCE
Although the occasion of a funeral or condolence is sad, a pleasantly arranged condolence can take away many worries. Hotel Hilversum - de Witte Bergen is specialized in arranging condolence meetings, varying from coffee and a sandwich, a reception package or a dinner with immediate family.
Van der Valk Hotel Hilversum - de Witte Bergen is conveniently located near the A1 and A27 motorways and has free parking.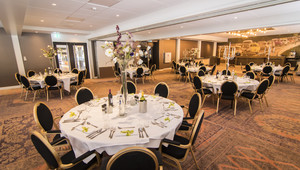 POSIBILITIES
Below you will find various possibilities for the interpretation of a condolence or gathering with your guests. For groups of 40 people or more, we offer the following options in a separate room.
Buffet, snack and drink arrangements posibilities
Closing the condolence with a buffet is also one of our possibilities. Below you will find our selection of buffets. Of course it is possible to exchange a dish with a dish from another buffet. We will gladly inform you about the extra options and prices.
You can expand your dinner or buffet with a beverage arrangement. Soft drinks, table water, house wine and draught beer are then unlimited. These arrangements can be booked for 40 persons or more in combination with dinner.
2-hours drinks package : € 12,00 per person
3-hours drinks package : € 16,50 per person
4-hours drinks package: € 19,50 per person
Foreign spirits from € 3,50 per drink
If you have a different duration in mind please ask the sales department.
Tailor-made proposal
If the above arrangements do not meet your requirements, we can make a tailor-made proposal for you. Of course it is possible to expand the existing arrangements or to adapt them to your own wishes.